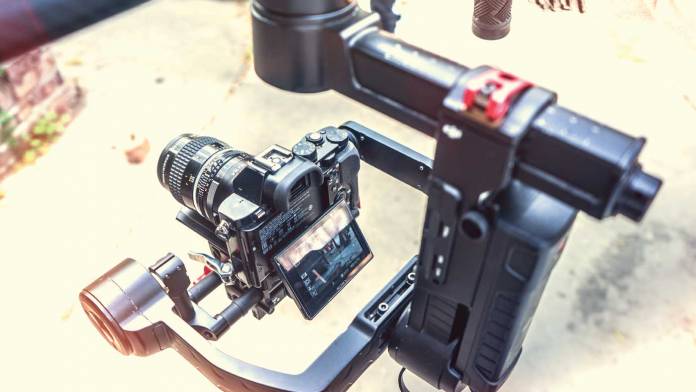 Today's action cams, mirrorless and DSLR cameras and camcorders are lighter than ever. But in many ways, they are also less ergonomically cooperative. In this article, we'll look at the best camera stabilizers on the market today. Then, we'll go over the specs to check as you shop so you can make your videos look more like "Birdman" and less like "The Blair Witch Project."
Best Two-handed Camera Stabilizer
DJI Ronin-M
The Ronin-M delivers the benefits of the two-handle motorized gimbal form factor in a lightweight and affordable package. The Ronin-M itself weighs 5 pounds and can support payloads up to 8 pounds. This gimbal features tool-less balancing and tuning, and re-configuring or breaking down the Ronin-M is simplified with crossbars that unscrew. Three orientations make it easy to get a wide range of shots, from straightforward shots in the underslung mode, to over-the-crowd shots in the upright mode, and briefcase mode for shots that need to move through narrow spaces.
---
Best One-handed

Camera Stabilizer
The DJI Ronin-SC is a smaller, lighter version of our previous recommendation in this category: the Ronin-S. While the Ronin-S is still a great option, one of the big highlights of the new Ronin-SC is its drop in weight. The Ronin-SC drops almost half the weight of the Ronin-S, coming in at a cool 2.4 pounds. The trade-off is that the Ronin-SC can only carry a total of 4.4 pounds. That's a large drop from the 8-pound capacity of its predecessor.
While the Ronin-SC may not hold as much weight, its battery life can last up to 11 hours on a single charge. Long battery life and a lighter design makes this gimbal a good choice for long shoot days.
Best Non-motorized

Camera Stabilizer
GLIDECAM XR-PRO
The Glidecam XR-PRO provides camera stabilization without the need for motors or batteries. Instead of relying on a brushless motor, the XR-PRO uses a more traditional sled design. It has a handle and counterbalance weights to compensate for the shakes and wobbles of handheld shooting. It's made with anodized aluminum and features precision bearings, a telescoping center post and dynamic camera balance platform.
Best Budget

Camera Stabilizer
DJI Osmo Mobile 3
The Osmo Mobile 3 is a 3-axis smartphone gimbal that is built to be both lightweight and ultra-responsive. As a smartphone gimbal, it needs to be easy to carry around, just like the smartphones it's built to carry. Meeting this requirement, the gimbal weighs just 405 grams. But its lightweight design is only one factor in the gimbal's portability. The stabilizer itself is foldable, which means you can easily carry it with you.
In addition to having an easy to use interface and joystick control for single-handed operation, the Osmo Mobile 3 also supports Gesture Control. A simple gesture can tell the camera to take a picture or begin recording. Also featured is DJI's ActiveTrack 3.0. If you're looking to capture a scene with fast movement, you can press the stabilizer's trigger to start tracking a subject.
Factors to consider
When choosing a gimbal for your camera, your first concern should be compatibility. You'll need to account for the weight that the gimbal will need to accommodate. This includes not only your camera, but your lens and anything else that the gimbal will need to support. You'll also want to look at compatibility, app functionality and any special features the gimbal might offer. Make sure the gimbal will work with the type of camera you plan to shoot with and that it provides the functionality you need to get the shots that you want. With this in mind, let's take a look at some of the defining features of any gimbal.
Non-motorized camera stabilizer options
The biggest factor that sets non-motorized camera stabilizers apart from motorized units is not cost but control. You have much more control over the subtle movements of the camera with a non-motorized stabilizer. If you're tracking a moving subject with your camera on a non-motorized stabilizer and you want the camera to slightly lean into the turns to accentuate the action, you can do this very easily with most non-motorized systems. Trying to get that same shot on a motorized stabilizer would be very hard, if not impossible.
In time, much like panning and tilting on a tripod, you'll find that the movement becomes second nature.
The drawback to having this type of control is that non-motorized systems take longer to learn how to operate as far as making your camera movements look smooth. They tend to require more operator interaction than their motorized counterparts. If you're used to doing a lot of hand-held operating, then you'll probably be getting smooth shots fairly quickly and with ease. Gradually, you'll be able to get shots that you might not have ever thought were possible even with a camera stabilizer. In time, much like panning and tilting on a tripod, you'll find that the movement becomes second nature.
Motorized options
On the other hand, once you have a motorized camera stabilizer set up and balanced, you can grab it and start shooting. It doesn't take long to get used to operating a camera on a motorized stabilizer. The stabilizer will maintain smooth level shooting; you just have to frame the shots. Most models will allow you to set up the camera with a tilt up or down if you want to get high or low angle shots. The stabilizer will maintain that angle for you. The only drawback is that you sometimes can't deviate from this during the shot, or else changing the angle will require a second operator controlling the camera.
Another advantage to a motorized stabilizer is that you don't always have to be right next to it. You could use a cart or wagon as a dolly, mount the stabilizer to it, and get shots that you might have needed a dolly on tracks to get otherwise.
The biggest disadvantages that some motorized camera stabilizers have is weight and battery life. Some of the larger units can be very heavy once your camera is mounted, so spending a long day shooting handheld might be challenging. Likewise, since motorized gimbals depend on battery power to operate, estimated battery life and your anticipated needs may be the deciding factors in your purchasing decision.
One or two hands?
After choosing between motorized and non-motorized options, you'll also need to decide whether you prefer operating the gimbal with one or two hands. One-handed stabilizers support smaller camera setups with fewer accessories and therefore work better in tighter locations. If you want to follow your talent through around a small space, a one-handed stabilizer will be perfect.
While most smartphone gimbals have long been designed for one-handed operation, it wasn't until more recently that one-handed designs began to support larger and heavier mirrorless and DSLR cameras. Larger two-handed stabilizer can hold much larger setups with heavier payloads. Though newer stabilizers like the DJI Ronin-S and the Zhiyun-Tech Crane 2 can hold your Panasonic GH5, Sony a7S II or Canon 5D Mark IV, you'll be looking for a two-handed gimbal for larger cinema cameras like a RED camera system, or if you plan to use heavier lenses.
Don't forget the accessories
Keep in mind that if you plan on adding any third party tools and toys to your gimbal setup such monitors, microphones or lights, the additional weight will affect the balance of your gimbal. It may even make it impossible to balance the gimbal without counterweights. Note also that for the smallest mirrorless cameras, you may need to add some weight for proper results. Make sure to look at the minimum payload as well as the maximum, since a camera that is too light will be just as difficult to balance as one that is too heavy.
Ergonomics
Ergonomics are another consideration when choosing a gimbal — especially if you anticipate long shooting days or want to capture smooth moving shots of an extended duration. Most single-handed gimbals will follow a similar design with the handle extending down below the camera, though there are some exceptions. A two-handed gimbal will give you more stability and control and will often support heavier payloads. This form factor may also help stave off fatigue since it distributes weight over both arms.
Another upgrade is the addition of a quick-release base plate. This allows you to switch between tripod and gimbal without switching plates or needing to rebalance. Since rebalancing can be a pain on any gimbal, this is a big advantage.
Ease of operation
Ease of operation should also be considered when choosing a gimbal. Hard to use controls will only make it more difficult to get the shot you're after. Some gimbals offer special features and camera control depending on the camera you plan to use. If these features are important to you, make sure to double check compatibility before you invest.
Portability
Finally, if portability is important to your workflow, look for features that make it easy to bring your gimbal into the field. Easy setup and breakdown is a plus, as is an included carry case.
Which camera stabilizer is right for you?
Handheld stabilizers let you move your camera in almost any way you want while keeping the shot stable. You may even find that you'll want to purchase both manual and motorized stabilizers. Likewise, the best stabilizer for your DSLR may not work great for your action camera and vice versa. There are many different types of stabilizers to fit all kinds of productions and budgets. Whatever style you choose, remember that smooth hand-held shots are what separate the amateurs from the professionals.
Contributors to this article include Antonio Pavlov, Morgan Paar, W. H. Bourne and the Videomaker Editorial Staff.
Disagree with our picks? Think we missed something great? Tell us about it in the forums.